Chess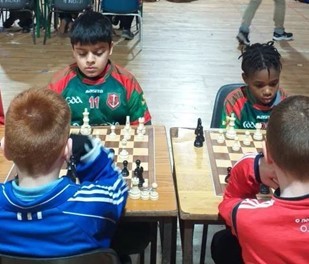 We are able to offer Chess as an after school activity in St Joseph's. All ability levels are welcome, especially beginners. We usually offer it to one class at a time, for 1st Class to 6th Class in 5-6 week blocks.
We take part in the Ficheall.ie chess competitions and link with other schools in Cork to take part in friendly competitions and make new connections with others who share our interests.
It's a great opportunity for children to represent our school who might not be interested in the same sports as others. We're very proud of some of our pupils who became excellent players and how they always encourage each other to learn and improve.
7th Sep 2023
Well done to our boys who competed in the Autumn Cork Junior Chess Championship recently....
24th Jan 2023
Well done to our boys who played so well in the Ficheall.ie tournament in Ballinora...